One of my favorite parts of living in San Francisco was its density: being so closely surrounded by the many thousands of interesting, unique people that had made San Francisco home. There were so many new people to meet.
It took moving to the city for me to really learn how to meet new people and maintain new relationships. My first year at Michigan was sort of practice for this, but I consider freshman year of college to have been "easy" mode since everyone was already trying to make new friends anyway.
In San Francisco, I had to get comfortable with owning the whole process, from sending a cold DM, to picking a cafe (seven miles was the farthest anyone could be), to scheduling a meeting. Afterwards, I couldn't rely on passing "hellos" in the dining hall or quick waves in the Diag to stay in touch, but I had to be intentional about it in a way that I never really had to think about in high school or college — whether by sending a periodic update over text or email, or remembering to grab lunch together whenever I happened to be in their neighborhood.
---
Since March — with the ongoing pandemic — I've had to adapt yet again. Video has replaced coffee in meetings; email and text have supplanted the spoken word. I've experimented with a CRM, revamped my email workflow so I get to inbox zero daily, and have done (at last count) fifty-nine catch-up calls over FaceTime/Hangouts/Zoom, mostly with people I met after leaving school.
While I feel pretty comfortable now about my ability to keep in touch with friends from the city, it's been a while since I was last in Ann Arbor (my last trip was cut short due to COVID) or Philadelphia long enough to catch up with folks, and there are many people from those parts of my life who I haven't spoken to in while.
I figured it wouldn't hurt to take some of the new way I'd been doing things and seeing what happened when I brought it back, so two weeks ago, I put together a list of 208 old friends and acquaintances — everyone from elementary-school teachers to my intern mentor at Google — and sent them the following email:
Subject: Hello from Nathan Leung!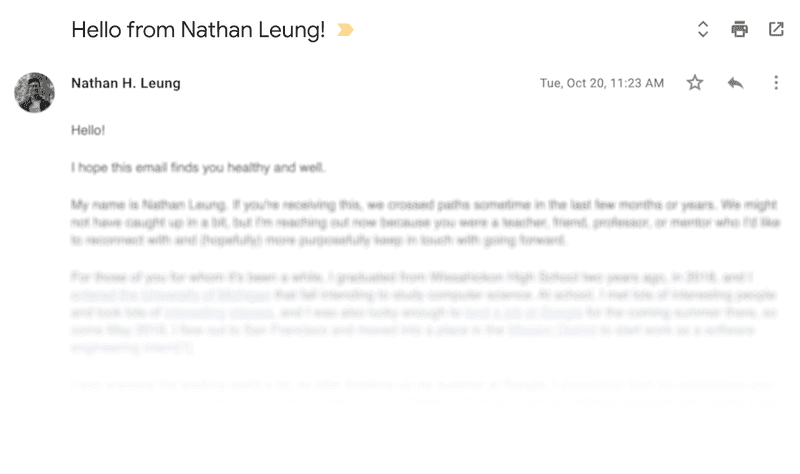 Hello!

I hope this email finds you healthy and well.

My name is Nathan Leung. If you're receiving this, we crossed paths sometime in the last few months or years. We might not have caught up in a bit, but I'm reaching out now because you were a teacher, friend, professor, or mentor who I'd like to reconnect with and (hopefully) more purposefully keep in touch with going forward.

For those of you for whom it's been a while, I graduated from Wissahickon High School two years ago, in 2018, and I entered the University of Michigan that fall intending to study computer science. At school, I met lots of interesting people and took lots of interesting classes, and I was also lucky enough to land a job at Google for the coming summer there, so come May 2019, I flew out to San Francisco and moved into a place in the Mission District to start work as a software engineering intern.

I was enjoying the working world a lot, so after finishing up my summer at Google, I disenrolled from my sophomore year of college. I joined an early-stage startup called Jupiter in October 2019 as a full-time software engineer and moved a few streets over to a new place near the Painted Ladies. My day-to-day responsibilities involved building end-to-end systems with TypeScript, React, Kotlin, gRPC, and Kubernetes (if you're into that type of stuff). I also was able to source, interview, and hire an intern, which was a lot of fun.

At the current time, it's been about a year since I started with Jupiter, and while it's been awesome to learn so much about startups and putting code into production, I'm beginning to think about going back to school. Over the past twelve months, I also established California residency by living, voting, and paying taxes in San Francisco, and because of my new domicile, I'm considering transferring to a UC school in Fall 2021.

Right now, I'm in the process of phasing out my involvement with Jupiter in preparation for my return to college. After my San Francisco lease ended a few weeks ago, I temporarily relocated from San Francisco to Missoula, Montana (with my brother, who's taking online classes at USC, and a fellow Michigan student I met in an English class I took), where I'm spending the next few weeks, hoping to hike, camp, and get some inspiration for my transfer applications, and I intend to spend time with my family in Pennsylvania for Thanksgiving and the holidays.

Anyway, I hope you found this email interesting and that it gave a little bit of a glimpse into what I've been up to since we last talked!

I understand it's been a bit of time since we may have last spoken, no pressure to continue to stay in touch. Out of respect for your inbox, I won't send any more unsolicited emails like this one (that is, this message was sent to a list — the list won't be used after this email).

If you would, however, like to continue to stay in touch, you can add your email at this link https://www.natecation.com/subscribe/ to join my main email list, to which I send occasional updates like this one. If you're so inclined, feel free to reply to this email and say hello, too (it goes directly back to me) — if you're open to it, I'd love to hear how you've been in the time since as well.

In the meantime, take care and stay healthy.

All the best,

Nathan H. Leung
I wasn't really sure what kind of a response to expect, but a few people did take the time to write a reply. It was especially nice to hear from my fourth-grade teacher, who I'm really glad still remembers me!
A few other people responded and told me that my note had inspired them to write and send their own update email to important people in their life, too. I told them I thought it was a great idea.
Stats for Nerds
Sent: 208 emails
Subscription rate: 23.6% (49 new newsletter subscribers)
Reply rate: 14.9% (31 replies)
See Also