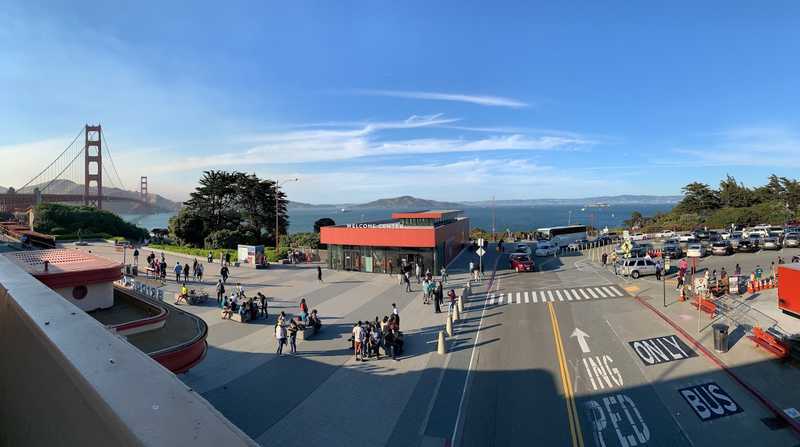 I. 24th St. Mission
In Philadelphia, $6.75 on the airport line is enough to take you all the way to Center City. In Chicago, $5 on the blue line is enough to get you from O'Hare all the way to downtown.
According to my college's career guide, San Francisco's cost of living index is 304.7 — with the average American city being 100. As I paid $9 at the Bay Area Rapid Transit (BART) kiosk at the airport to get into the city, I knew I was in the right place.
San Francisco International Airport (SFO) is about ten miles south of the city proper, and it's a 25-minute ride away from my stop, the 24th St. Mission station. My Airbnb is a seven-minute walk from the station, and as expected, it rents for about three times the rate of my student housing in Ann Arbor.
I had only ever been to the Bay Area once before, for a short family vacation, but I had done my research, and for the most part, thought I knew what I was getting into: the exorbitant cost of living, an epidemic of homelessness, and apparently, a lot of poop — but most essentially, tech everywhere. The Golden Gate Bridge, Salesforce Tower, and the SoMa neighborhood's rows of logos — Twitter, Uber, Airbnb, Pinterest — had fluttered in and out of my daydreams for years. I couldn't wait.
---
The first steps I take in the San Francisco are the stairs out of the 24th St. Mission BART stop. I'm dragging my suitcase with everything I need to live on for the next twelve weeks behind me.
I emerge next to a taqueria, surrounded by ebullient Latin music in a neighborhood that looks nothing like the skyscrapers and suspension bridges I had in my mind. Discreetly taking out my phone to avoid looking like a tourist, I pull up the address of my Airbnb and spin the device around to figure out which way the direction indicator is pointing.
On the way to my accommodation, passing dive bars and impromptu fruit stands and hearing more Spanish than English, I wonder what I've signed myself up for. I grew up in an affluent, mostly white suburb, and went to college in pretty much the same. I've never lived in a big city before.
According to my cursory online research, the Mission District is one of the more vibrant neighborhoods to live in, and I was originally looking at a place in the Hayes Valley. To be completely honest, though, those phrases are still about as foreign to me as the names of the shops I'm passing.
I see someone standing outside where I think my apartment should be.
"Is this an Airbnb?" I ask.
"No, this is a rooftop bar and restaurant."
I marked the location of the Airbnb on Google Maps before I actually booked it, so I sort of guessed around the block-or-so radius given on the public listing, and ended up putting the label on a bar called El Techo instead of my actual place. I fumble with my phone to find the correct location and ring the bell as instructed.
An Asian man comes down from the stairs and leads me inside. He introduces himself as the property manager.
"This is your room," he says. An 8.5x11 placard which reads "Please open and close door quietly" is taped on the door.
There are two bunk beds in the room, but it's all mine. There's another room in the apartment, so I ask the manager who the other tenants are.
"Oh, they work in security," he says.
"What startup?" I ask.
I knew someone who worked at a security company last summer, and I had a passing familiarity with HTTPS, RSA, and the like, so I was excited to talk about the newest advances in the field.
"Oh no, physical security," he corrects me. "There's actually three guys in there but only two beds," he explains, "one guy works from 8am to 8pm and the other works 8pm to 8am, so that's how they make it work. They're both at Lyft."
He hands me a keyring and a towel.
"Anyway, make sure you're quiet when you come in and out."
---
I live on Mission Street. Next door to me is a run-down trinket shop selling various unlicensed San Francisco gear and on the other side are two Mexican restaurants, one specializing in brunch and the other in tacos. A dedicated bus lane, painted in the signature red of the San Francisco Municipal Transportation Agency (Muni), runs down the length of the street.
Two blocks west of me, on Valencia Street, is an artisan coffee shop, an organic food store and a used bookstore. There's a dedicated bike lane, painted in bright green, which runs all the way to the Uber and Twitter headquarters in SoMa, a mile and a half north.
There's a saying in San Francisco, "crime doesn't climb" — referring to the city's infamous hills and their ability to deter petty crime — and as I head further west of my apartment on Mission, down 18th Street past Valencia, and up the hill towards Mission Dolores Park, I find a bag of books put out on the curb for pickup in front of a resplendent sky-blue rowhouse. Ruffling through the bag, I pick out a first edition copy of The Lean Startup. I take another look at the house and wonder if the occupant is moving up the hill or out to LA.

II. The Stanford Effect
I'm at Blue Bottle Coffee in Palo Alto, a popular off-campus hangout for students at nearby Stanford University. The cafe runs out of a repurposed movie theater built in 1927, and its design pays homage to the old Spanish missions established here in the eighteenth century.
The cinema's interior today is split in two: the coffeeshop occupies one half, and the other is operated as a coworking space which charges aspiring entrepreneurs $3 an hour to sit on trendy furniture. While lounging in the cafe is free, the avocado toast I'm munching on did set me back $10. I'm having lunch with Will Yin, a friend I met back in April, and one of the few people I know in the Bay Area.
---
Last fall, a company called Citadel came to the University of Michigan and announced that they were running a coding competition. I signed up, and when I arrived at the event, the organizers assigned me to a team of four. It was a six-hour event and my team didn't place all that well, but I talked to a recruiter for a few minutes and then forgot about it for six months.
When I got the email from Citadel in March, I had to backtrack for a few moments to figure out why they were emailing me. It was from the same recruiter I'd talked to at the event, and I was pleasantly surprised to see that she had remembered my name. It was an invitation to visit their office in Chicago. The email said they would pay for my flight and hotel, though, so I thought, Why not?
I arrived downtown at around 5pm, just in time for the scheduled networking reception, where I found almost one hundred other college students, evidently from all over the nation. As I milled around, I happened to catch someone standing by one of the booming speakers blasting mid-2010s pop.
"Hey, I'm Nate."
"Will," he replied.
He mentioned that he wasn't sure what he was doing at this Citadel event since he'd already accepted an offer to work at a different hedge fund for the summer.
"I go to Michigan, by the way — where are you from?" I asked.
"Stanford," he replied.
Nobody from my high school in recent memory had been able to get into Stanford. It was almost a myth, and I was fascinated. We chatted a bit more, and the next night, we grabbed Korean tacos for dinner in the city's North Side.
"I might come to Citadel next year, though," he said in between bites of kimchi, "but I also wanna do a startup, so not really sure."
I mentioned I'd be in the Bay soon, and he told me to keep in touch.
---
I've been in San Francisco for nine days, and it's been about seven weeks since the Citadel event.
In about 15 minutes, I will learn that as of two weeks ago, Will has become a cofounder of the Y Combinator-backed startup Talar, recently worth $2.1 million.
"Welcome to the Bay Area," he says, "you like it so far?"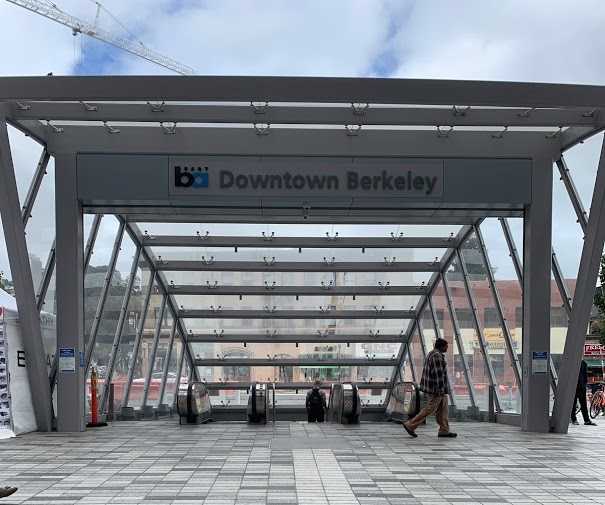 III. BART Everywhere
After a beautiful Saturday at Golden Gate Park, I book an Uber back to the Mission District. A seasoned rideshare user, I quickly scan the approaching vehicle's plates.
"For Nathan?" I ask as the driver pulls up to the curb.
I'm usually the one to sit in the front when I'm out with my friends, and today is no exception.
"How are you, sir?" the driver asks.
"Good, you?" I respond.
When I first started using Uber and a driver would start talking, I found that we could often keep a conversation going for most of the ride — many of them seemed to enjoy chatting! I'd always learn something new, whether it be a new Cameroonian delicacy or the extent of Yemeni community in southeastern Michigan, and I began to see these chats as a fascinating connection to another world. So, I see if the driver's up to talk today.
"So how long have you been working today?" I ask.
"Just since the afternoon." he replies.
He goes for the yellow light. I make a mental note to give him the "Above and Beyond" badge after the ride.
"Where are you coming from?"
"Sacramento. And you, my friend?"
I've met a few drivers who came out from the capital, where rent is less than half of what it is in the city.
"I'm just living here for the summer," I explained, "but I'm originally from Philadelphia. How much longer are you driving today?"
"Until maybe midnight," the driver said.
"Is it hard to find people going to Sacramento when you want to go home?"
"It's usually pretty difficult. I've been driving full time for three years now, actually. I've started sleeping in the city three nights a week so I don't have to go back, and I usually get a hotel room."
He pauses.
"So yeah, it can be hard sometimes."
---
BART's Transbay Tube is a marvel of modern engineering. Instead of boring through solid rock like a tunnel, the tube was built and assembled aboveground, and then lowered into the San Francisco Bay approximately parallel to the Bay Bridge. It was packed down with sand and gravel and has remained in place since it was opened in 1974. At its peak, 28,000 people travel through it per hour, and inside, trains reach speeds of eighty miles per hour, double their speed in the rest of the system.
Today, I'm headed to a small city in the East Bay called Richmond, just north of Berkeley. As a resident of the city of San Francisco, this means I will have the special privilege of traveling through this amazing underground passage to my destination, for only the second time ever since I've come to the Bay Area. I'm looking forward to it.
I plan to be out for the whole day, so on the way to the 24th St. Mission station, I stop by Walgreens and pick up a Clif bar for breakfast and a Lunchables for later. Eating and drinking is prohibited on BART, so I keep both items in my bag for after I get off.
I board a yellow line train, which doesn't go directly to my destination — I'll need to transfer around Oakland. The train is surprisingly full for a Saturday morning, and I choose to stand against the wall-mounted system map, holding on tight as we rumble towards the Embarcadero and zoom through the tube, eventually emerging in the bright daylight of the Port of Oakland.
While we're still making our way towards the first East Bay stop, the doors that divide the cars open, which usually doesn't happen — I'm not even sure if it's legal to move between cars while we're in motion. A disheveled man walks in, who evidently has been walking through the entire train. He stops a few feet in front of where I'm standing and looks straight ahead towards the end of the car, as if addressing everyone present.
"Today is Saturday," he begins. "It is my fiftieth birthday." He pauses for a moment.
"I am homeless and hungry, and anything helps."
He stops again and looks around, but nobody moves. Fifteen seconds pass, then thirty. I hold my bag a little tighter, but think a little, and come to the conclusion that he probably needs it more than me. I take my Clif bar and extend it to him.
"Thank you," he says.
Nobody else does anything. I wonder why not, since everyone seems to be ready for a leisurely Saturday and looks like they could help. The man walks down the aisle and to the next car.
I get off in Oakland and transfer to a Richmond-bound train, this one much less crowded than the previous. Last time I was in the East Bay, I only went as far north as Downtown Berkeley, so I look out the window to take in the new sights.
As we make our way to Richmond, I hear the double doors separating the cars open and I look back. A woman walks in and stops near the head of the train to survey the crowd.
She begins to speak, and I, unsure of what else to do, turn by head back towards the window, clutch my bag, and don't move.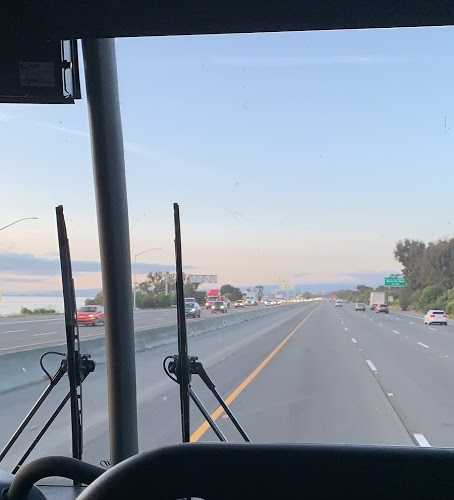 IV. Reverse Commute
As someone working in the heart of Silicon Valley, at Google's Mountain View headquarters, the first question I get when I meet other interns is "why did you live in SF?" It's a fair question, since it's a hell of a commute. For the first few weeks, I'd wake up at 6:30 and catch the 7am shuttle which would get me to work by 8am. I'd leave work after grabbing dinner, which was served at 6:30, and wouldn't get home until after 8pm. I thought about looking for a place closer to the office.
Many interns live in or around Mountain View, which has a population of 83,000. There are no official statistics which show how many of those Mountain View residents are employed by Google, but they are likely a sizeable proportion of the approximately 25,000 employees at HQ, and if they don't work at HQ, they probably work a fifteen-minute drive to the southeast in Sunnyvale, where Google has another office and shares space with Yahoo, Microsoft, and Amazon.
The central Google campus in Mountain View is known as the "Googleplex," and it contains Buildings 40 to 43 — Buildings 44 to 48 are across the street. There's a bar down the street from the 'plex called Sports Page, but it's affectionately known as Building 50, and on Thursdays after 5, white Google badges can be seen at every table (most interns, with their green badges, are unfortunately under 21 and don't have as much of a reason to go there as the full-timers).
Downtown Mountain View is similar. If you're not working for one of the big tech companies, it's almost impossible to live in the Silicon Valley peninsula. Headlines often tout that the most expensive ZIP code in America is in San Francisco, but 2018's winner, 94027, is smack-dab in the middle of the Valley, just north of Stanford.
---
I've recently been taking the 8:30am shuttle which gets me to work at 10. I do some work on the bus to pass the time, and then I usually leave at around 4 and get home shortly before 6. If I'm feeling good, I'll run a quick out-and-back loop to Golden Gate Park before dinner, enjoying the soft evening sunlight filtering through the trees in the Panhandle.
Besides a $40 Uber, an $8 Caltrain ride is the next best way to travel between the city and the Valley, but outside of rush hour, Caltrain runs once per hour, and on weekends, the trains run once every ninety minutes. I know some interns who never venture into the city, and if those are my only two options, I'm not sure how often I would either.
Now that I've settled down at my place, I'm confident that living in the peninsula wouldn't have been worthwhile — there's just so much to see and do in the city. A twenty-minute walk from my apartment can take me to the vibrant restaurants of the Castro or the Full House set near Alamo Square. A short but satisfying hour-long urban hike is rewarded with the beautiful view from Twin Peaks. Living in the Mission, I'm surrounded by phenomenal taquerias and have a beautiful park just a few blocks away. You just can't get an authentic taco al pastor at 2am in Mountain View.
Despite the allure of the incumbents in Menlo Park, Mountain View, and Cupertino, even startups' old stomping grounds in the peninsula seem to be losing ground to the pull of the city. I recently DM'd a founder on Twitter about meeting for coffee and his preferred meeting spot was in SoMa, just a 15-minute bus ride away from my Airbnb. I've attended meetups and events and have met interns working at the next generation of unicorns — Uber, Twitter and Airbnb are all based in the city — and it's awesome to be able to tour their offices and not worry about figuring out how to get back home.
There's so much talent concentrated here, too. My high school was rather ordinary, and the "Notable Alumni" section of its Wikipedia page has eight people listed in its eighty-year history — most notably a defensive end for the Chiefs and a famous YouTube duo. I know two — perhaps not as notable in Wikipedia's eyes — alumni who are living out here, and both are some of the most driven, ambitious people I've met: one is taking the startup plunge after two years as a software engineer at Facebook and one is just getting started as a product manager at a recently IPO'd company (with potentially a startup in the future!). I reached out to them when I arrived and both were extremely open to grabbing a meal and chatting about their experiences. I have a feeling there could be two more entries on the Wikipedia page in a few years!
---
San Francisco is a city of neighborhoods, each with its own distinctive character. There's the unabashedly technocratic persona the city projects to the rest of the world, but just as fascinating — to borrow the startup lingo — is the nontechnical. Past the unicorn headquarters in SoMa and the internet giants in Rincon Hill, North Beach has excellent pizza, the Castro foments passionate activism, the Sunset has an awesome Chinatown… the list goes on.
If I get home before 6:30pm, I usually eat dinner at the Google office in San Francisco, which is in Rincon Hill. I'll take BART or grab a shared GoBike and head to the Embarcadero, where, passing Twitter and Uber's headquarters on Market Street, I can easily pick out logos on company-emblazoned apparel. I put on my badge and proudly wear my branded intern backpack as I walk down Spear St. to the Google office.
There's a noticeable lack of branded apparel back in the Mission District, though. Despite the crowd that would disembark from the Google bus with me every afternoon, the only employee badges I ever saw walking around in the Mission were the green intern badges, so I got into the habit of taking mine off as I exited the bus.
A few weeks ago, I visited a friend in Seattle who told me Amazon's intern-issue backpacks this year didn't have the company logo on them due to safety concerns, and friends in SF have told me companies have recently been taking logos off of apparel because of harassment and muggings. And before coming here, I read about the tech bus protests of 2014 where protesters stopped and boarded a company bus just a few blocks away from where I currently get on.
Although I haven't encountered this type of open hostility yet, there's definitely an air of general uneasiness when I walk through the Mission in my Google shirt. I'm not exactly sure how to feel about it yet, but I do think it's better that I'm living in the city, where the spectre of inequality that the tech industry has brought to the area is in full display, instead of sleeping blissfully ignorant in some Stanford student's sublet in Palo Alto.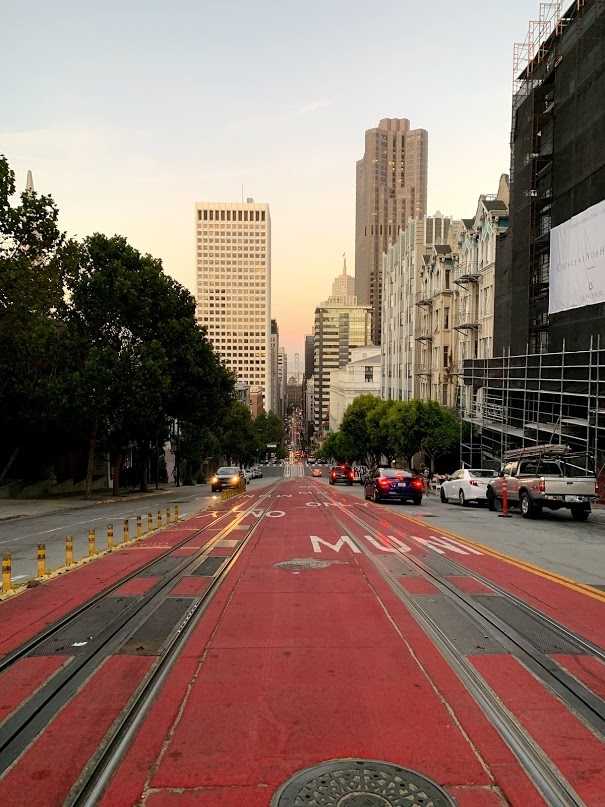 V. Classic Muni Sh*t
It's 9:30pm at the intersection of Van Ness and Market, and I'm staring at the tiny blue direction indicator on the Google Maps app, searching for where the 49 bus stops, which has evidently moved due to construction. I dart back and forth across Market Street twice on the same crosswalk and wonder if people think I'm crazy before finding the wooden planks which seem to mark the temporary station.
I'm alone besides a grizzled black man sitting in a wheelchair whose glassy eyes gaze straight ahead.
"You waiting for the 49?" I ask as I half-wave my hand to grab his attention.
"Yeah," he replied gruffly, "you too?"
"Yeah," I say.
We stand there for a few moments in silence, watching the cars rush by on this urban extension of Highway 101.
I turn my head to left, searching for the telltale orange "49" and the red Muni livery.
"You smoke weed?" I hear.
I turn my head to the man in the wheelchair.
"No, sir," I reply.
"I'm high out of my mind," he responds.
Not one to decline an invitation of conversation, I ask, "where you going?"
"22nd and Mission. I live on top of El Techo," he says, "the rooftop bar. Section 8."
"Oh, I live right down the street," I say. On Friday nights, that's where I suspect the loud music that makes its way into my room when I keep my window open originates. "Where you coming from?" I ask.
"Getting my hip replaced. Got my two knees replaced a while back. After I served."
"When did you serve?"
"'72 to '75."
"They treating you well over at the VA?" I ask, recalling some news I heard about conditions in VA hospitals.
"Yeah, yeah, whatever," he says, as the bus arrives.
I tap my Clipper at the second door as he waits for the accessible ramp to fold out in front. I get off at 20th and Mission and cross the street to my apartment, watching as the bus makes its way towards El Techo.
---
I used to look out the window the entire ride as the Google bus made its way up the peninsula on Highway 101, wondering who was flying out of Palo Alto airport, seeing which newly-funded startup put up fresh billboards, and enjoying the view of the Bay as we passed through South San Francisco, but after over a month on this route, morning and night, I usually just connect to the Wi-Fi and do work. Nobody talks on the shuttle anyway, so besides the rumble of the road it's a rare quiet environment for concentration.
After the normal hour-and-a-half ride, I get off at Dolores Street and begin the walk back to my apartment, which can be anywhere from ten to fifteen minutes depending on whether I decide to go up the hill towards the park or turn right towards Guerrero Street. It's about half past five, and I can see the early summer sun reflecting rich, buttery light off of Salesforce Tower in downtown as I make my way down the hilly gradient.
It feels like a wonderful evening for a run. My favorite route begins at my apartment in the Mission and proceeds north on Dolores Street. From there, I either loop around Alamo Square Park, say hi to the Painted Ladies, and take the same way back for a total of four miles, or I head to Golden Gate Park via the Panhandle and loop back for six. I've got a bit of extra time tonight, so I decide to try something new. I've run at the Embarcadero a few times, starting near the Ferry building, but I've never run there from my place in the Mission. I figure I could just follow Market all the way down to the waterfront and then turn around for a good six or so miles.
As I pass the motley collection of smoke shops in SoMa adjacent to Uber and Twitter's global headquarters, I notice an African-American man in a wheelchair, talking excitedly. Upon recognizing my good neighbor from El Techo, I figure this might be the closest taste I'll get of what it feels like to be a local.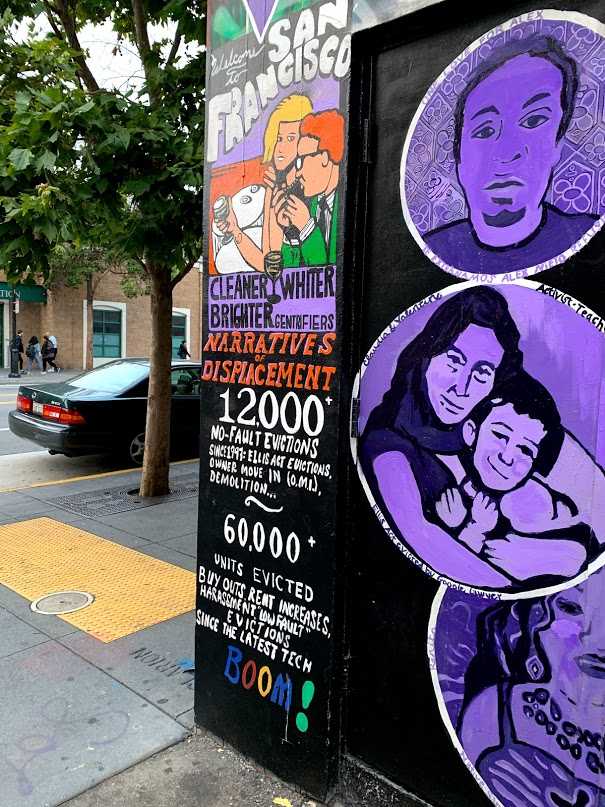 VI. Stakeholders and Shareholders
I recently came across an article in the New York Times about gentrification in the Mission, and was surprised to see its dateline: November 5th, 2000. It struck me that this dialogue about the influx of new money into lower-income neighborhoods, and specifically the neighborhood I was living in, had been going on almost since I was born.
There's a mural on an alley near Valencia and 17th, just a few blocks away from my apartment, that gives statistics about evictions, and attributes it to a tech "boom!", the word spelled out in large capital letters, each a different color: blue, red, yellow, blue, green. If there was another letter, it would probably be red.
---
I grew up in a small suburb of Philadelphia, and I was one of a small handful of kids in my graduating high school class interested in startups and computer science. Patrick Collison, founder of Stripe, famously advises:
Figure out a way to travel to San Francisco and to meet other people who've moved there to pursue their dreams. Why San Francisco? San Francisco is the Schelling point for high-openness, smart, energetic, optimistic people.
He's been right so far. Every day, I'll meet someone fascinating, or learn something surprising. There's so much going on that the events of yesterday often seem like they happened last week.
But besides tech workers, people of all walks of life live — or at least try their best to live — here in this city. Among the newly-minted millionaires in SoMa, we have a growing homeless population. When I choose to walk from the Embarcadero, down Market past Uber and Twitter, to my apartment in the Mission instead of taking transit, I inevitably see the telltale orange cap of a hypodermic needle tossed in a planter by the sidewalk.
Even the Mission, which has been — and still seems to be — a working-class, majority Hispanic neighborhood, the changes accelerated by the tech industry are evident. Lucca Ravioli, a Mission institution which operated for over 100 years out of the corner of 22nd and Valencia — on the way to my Google Bus stop — shut down due to high rents two weeks before I arrived. I'm already willing to pay three times as much here as I am in Ann Arbor for housing, and if all of my CS friends at Michigan move here too, I have no idea what will happen. Will I still be able to get a super burrito at El Farolito Taqueria for less than $10? If all the best tech jobs are here, where should all the employees go? Is the apparent decrease in crime worth the loss of the culture and vibrancy that made the area so desirable in the first place? What about the people who are already living here? How do we reconcile their interests with the continued growth of tech? These are all tough questions, and at this point, I'm really not sure what the answers are.
Recently, the lack of satisfactory answers to these tough questions — compounded with pressing concerns of ethics and fairness — have manifested into an immense backlash against tech, not only in San Francisco, but across the entire country. And despite many venture capitalists' claims to the contrary, this seems to point to systemic issues within tech itself — issues that have only been brought to light recently as a result of tech's rapid encroachment into almost every aspect of our lives. After all, this is the first time in history that tech has been able to successfully upend entrenched, real-world industries like transportation and housing — creating a truly instant taxi service and allowing people to explore the world on a budget in the process — but not to forget, also resulting in the recruitment of thousands of people as low-wage "contractors" and a significant increase in the attractiveness of real-estate investment in already expensive areas.
That's not to say tech needs to leave the city, or is unfixable. I've realized that until coming to the city and actually living in it, I never had to come face-to-face with many of the issues I read surrounding the industry. The visceral perspective that the city has imparted — a profound awareness of its staggering inequality, and a recognition the upbringing of privilege I come from and the coruscating place of abundance I am privy to as a young tech worker — has given me a lot to think about.
For exactly that reason, I'm bullish on San Francisco. The types of people who have always naturally gravitated to the city — those who are hell-bent on changing the world and building the future — will, for as long as it exists, be subject to the strict scrutiny of the impossible-to-ignore inequity that plagues the city.
I plan to launch my own startup one day, and these past 12 weeks have given me so much vital perspective. I will do my best to take it to heart, striving to build a venture that is ethical and sustainable — a venture that succeeds alongside, rather than at the expense of others, and a venture that, step-by-step, will get the requisite "backlash" such that, as the old saying goes, will truly "make the world a better place."
And for that, I can thank San Francisco.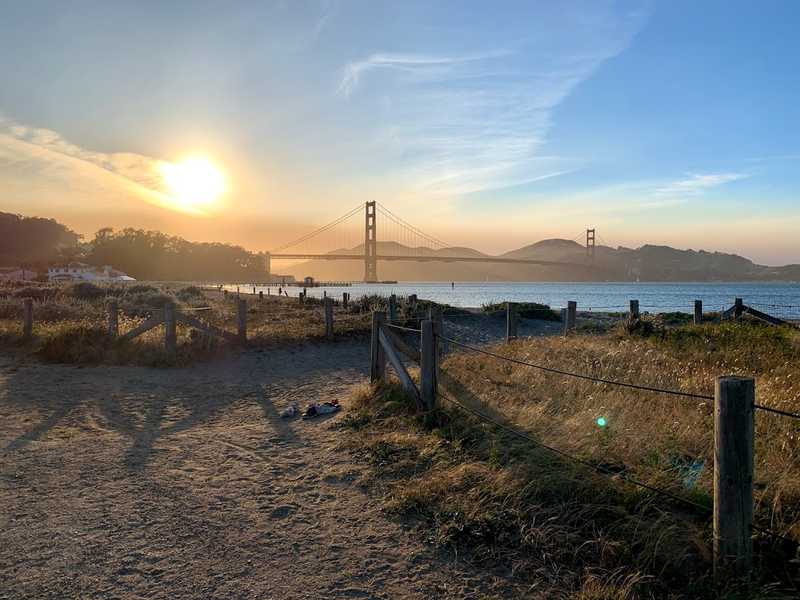 Afterword
My lease in San Francisco ended in early August, the day after the scheduled end date of my internship. Afterwards, I took some time off to spend time with my family and friends back in Pennsylvania.
My internship project wasn't finished, though, and thankfully, my manager allowed me to extend my internship four more weeks to clean up my features and deploy a better product. So after two weeks on the East Coast, I returned to the Bay Area.
A new tenant moved into my Airbnb the day after I left, so I sublet a place down in the peninsula, in Sunnyvale, from another Google employee. My commute time was cut in half from an hour and a half to around 45 minutes (I ran to work one day, in fact), and I saved $500 per month in rent.
I decided to visit the city again the first weekend after moving into my new place. Without a car, it ended up being a two-hour multimodal trek: first, the Valley Transportation Authority 22 bus from my Sunnyvale sublet to the Palo Alto Transit Center, and then a local Caltrain to San Francisco station. As I walked to the nearby Muni Metro stop after disembarking, I realized I'd forgotten how cold it was in the city compared to Sunnyvale, and that I probably should've worn more than just a t-shirt.
But the chill was rejuvenating, and I was overwhelmed with gratitude — to be back in the city, gazing at the expanse of the Bay Bridge over the cerulean San Francisco Bay as I passed by the Embarcadero; having brunch at a Hayes Valley corner cafe, talking startups and how to raise a seed round with someone I'd met on Twitter; in the afternoon, enjoying the galleries at the SFMOMA for the first time; and reading sci-fi in the basement of the City Lights Bookstore as the sun disappeared in the west.
I was once again made acutely aware of how blessed I was to have had the opportunity and privilege to live here — without ever lacking food to eat or a roof over my head.
My internship ended on September 13th, and I'll be making a quick stop on the East Coast these next few weeks. I'll be back soon, though, hopefully daydreaming about familiar sights with renewed, more conscientious eyes.
Thanks to Neehar Banerjee and Jason Shu for reading drafts of this!