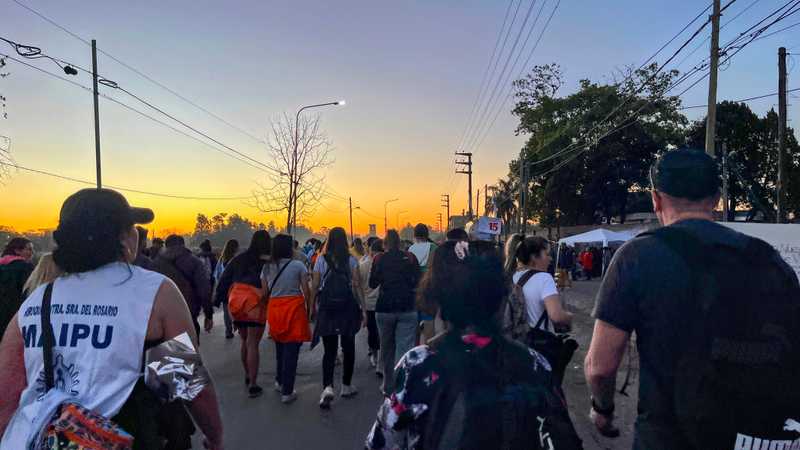 "¡Hay chori, hay vacío!"
"¡Baños, baños, baños, acá!"
It's already been a few hours, and the sun is still high in the sky. A literal marathon of walking lies ahead of me. So, I cave, handing two 100-peso notes to the woman at the door — the first of many such paid bathroom breaks on this 13-hour, 37-mile journey.
---
Every year, thousands of people from all over Argentina (and beyond) converge on a small church in Buenos Aires to commemorate the legend of the Virgin of Luján, the patron saint of Argentina.
The statue is now on display in the basilica in the town of Luján, and each year, pilgrims — starting from Buenos Aires — make the 37-mile journey on foot in order pay their respects to La Virgen in person.
I'd read about the pilgrimage in an old guidebook I'd found in my homestay in Buenos Aires. Perhaps inspired by my time on the Pacific Crest Trail last year, the idea of going for another long walk intrigued me immediately. When I found out that this year's pilgrimage was scheduled to take place between September 30th and October 1st — exactly during my study abroad program's midterm break — I saw no reason not to join.
The Walk
Saturday, 10:00 AM
In any case, I get dressed — putting on a pair of running shorts, a t-shirt, and a light puffer jacket — and I opt for Brooks trail runners over my usual Ultraboosts. I throw some joggers into my backpack for later, and toss in two liters of water too. I'm not sure what to expect in terms of roadside services, so I briefly debate bringing my sleeping bag before deciding it'll be too heavy.
I leave my apartment and start making my way towards the metro (known here as the "Subte"). I'm also not sure what to expect in terms of food, so I stop at the local empanada outpost and pick up two de carne suave for lunch.
Saturday, 11:00 AM
Saturday, 11:40 AM
Only a few others get off at Liniers station, which worries me a bit, but the church that marks the start of the walk, La Parroquia de San Cayetano, is just down the block. As I walk over, I'm reassured by the throngs of people still about.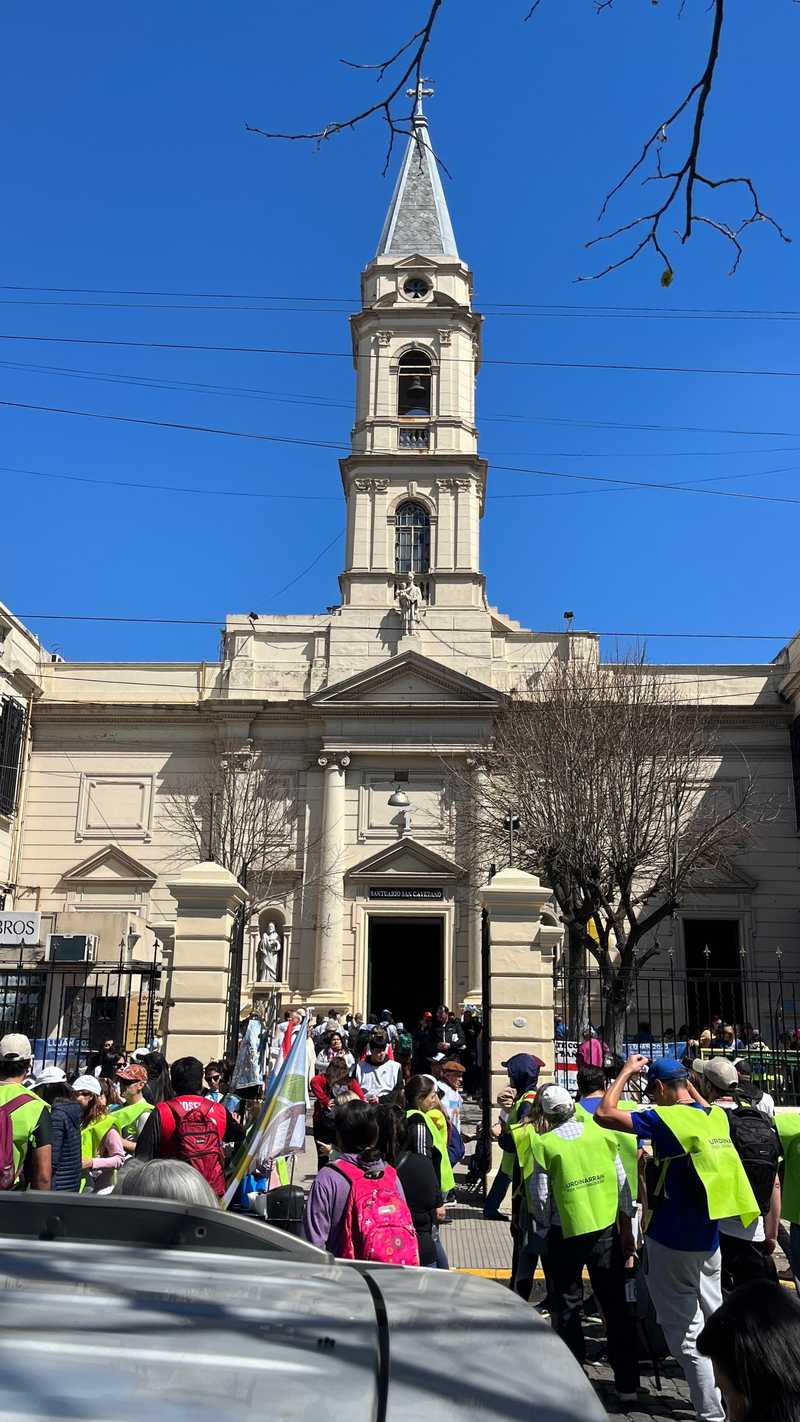 I enter the church and take a peek around. I'm admittedly a little out of place amidst the mass of devotees, and I guess I must be looking a little lost too, when a man comes up to me and asks how I'm doing.
"¿Cuándo empiezo?" I ask. When do I start?
"¡Cuando quieras!" he replies. Whenever you want!
He shows me a map of support stations — places where the local ecclesiastical administration has sponsored tents with water and medical attention — and remarks that an idol will be coming out at noon, so I may want to wait for that. I'm not exactly sure what that means, but I stay around anyway.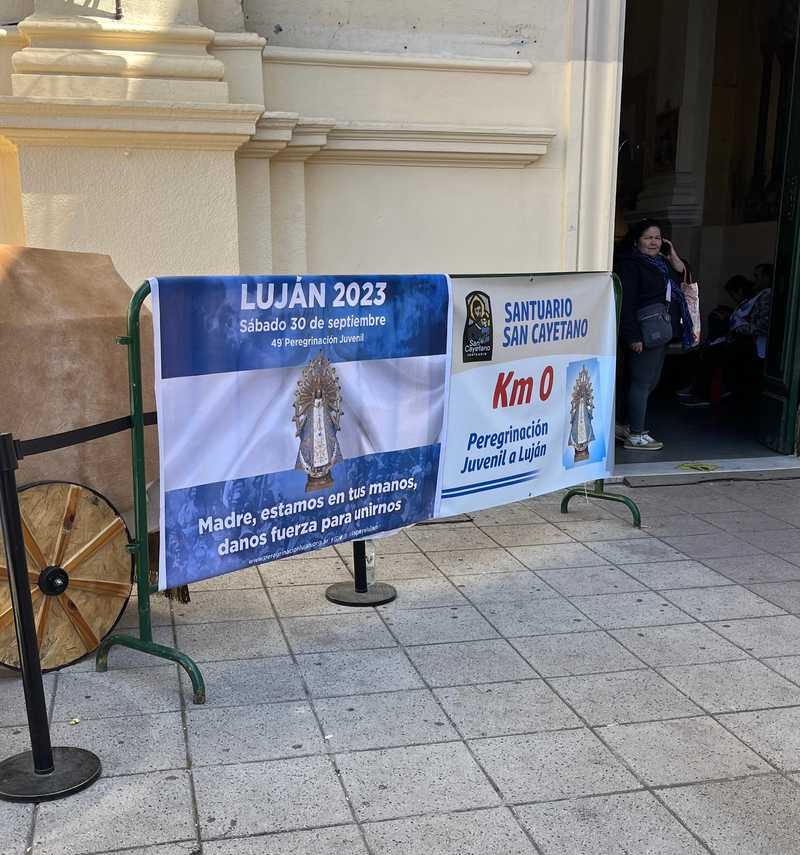 Saturday, 12:00 PM
♪ Hoy he venido para cantarle a mi Señor,
quiero alabarle y darle gracias por su amor.

Por eso canta, canta, canta, baila, baila, baila
Como lo hacía el Rey David. ♪

At noon, a hymn begins to play as a cart is wheeled out of the church. Perched atop the cart is a replica of the legendary statue, which I guess must be what the man was talking about. The crowd of people gathered in the church stream after the cart as it moves through the church gates, and I follow close behind.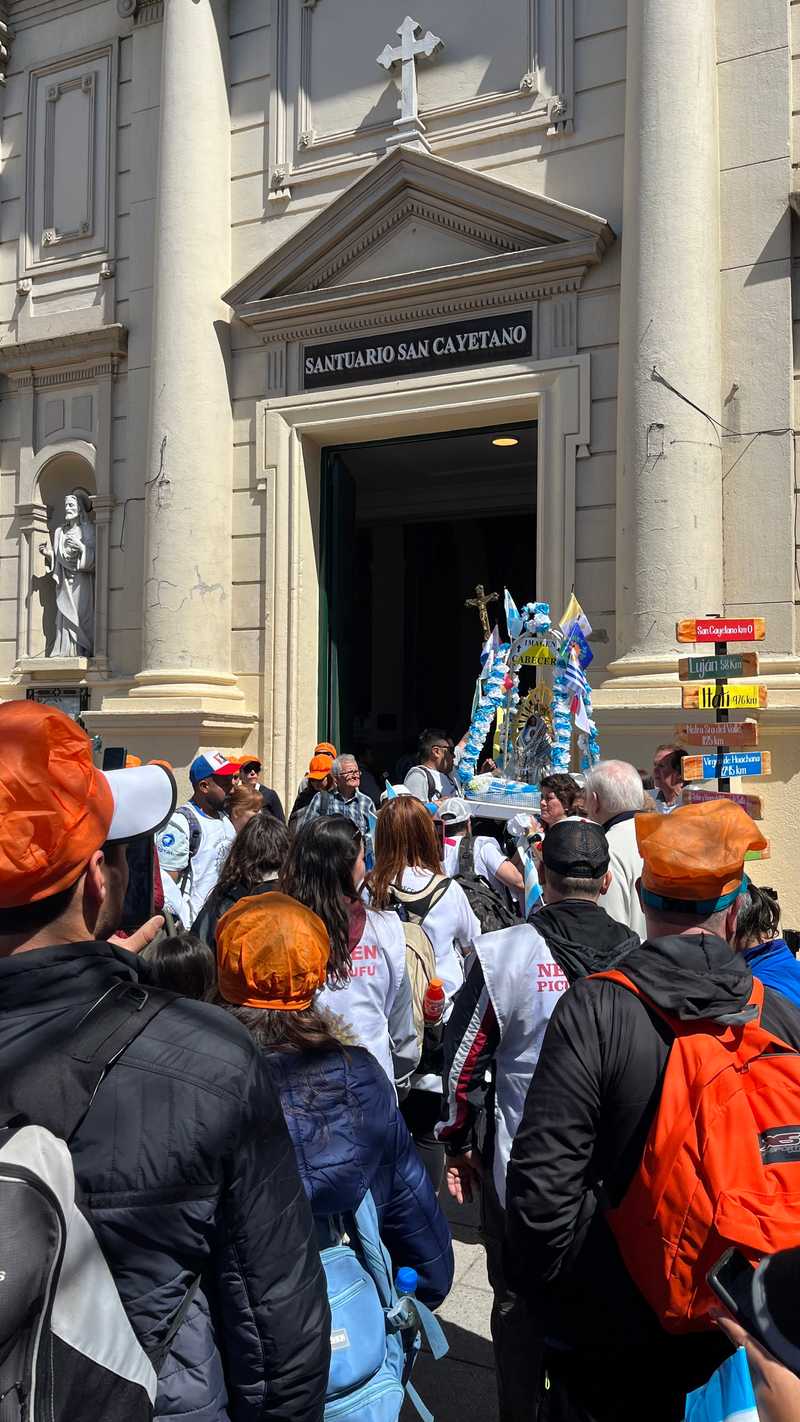 I see the man I was talking to earlier, now standing outside the gates and dressed in priestly white robes. He smiles as I pass, sprinkling some holy water on me and wishing me una buena peregrinación. I smile back and say gracias, feeling a little less out of place.
Saturday, 1:45 PM
The route is rather straightforward, sticking mainly to Avenida Rivadavia with few turns. The surroundings are still urban, not unlike Buenos Aires, and haven't changed much since Liniers.
I'm a fast walker, so I pass a bunch of church groups, their matching shirts advertising their churches' names and locations. I recognize many of the towns and neighborhoods as local to Buenos Aires, but there are also a few from further afield — I see one group from Neuquén, a 14-hour drive southwest of Buenos Aires.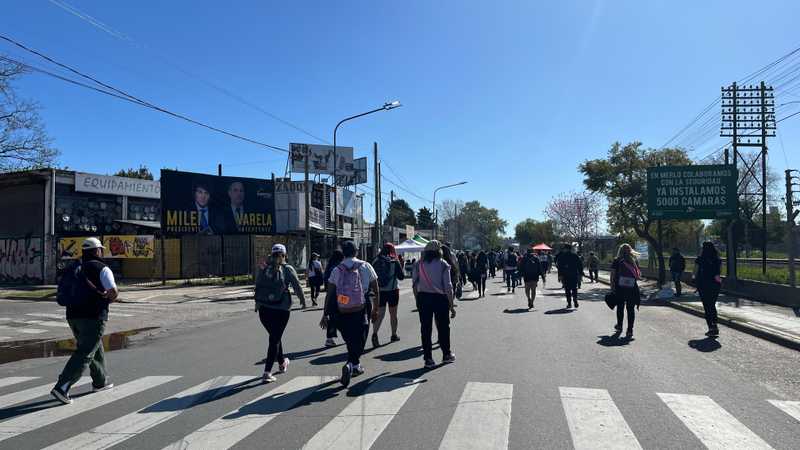 Many groups have brought pushcarts with speakers to hype their members up as they walk. People chat and laugh amidst the music, blissful in the face of thirty-plus miles of walking ahead. The sun shines overhead against a spotless sky.
At 1:45 PM, a little under six miles in, I reach the large town square of the municipality of Morón. There's a water station and a bunch of tents set up, so I take the opportunity to sit down and munch on my empanadas.
I'm beginning to feel the weight of the two liters of water I have in my bag, and I realize I probably could've gotten away with carrying less.
Saturday, 3:30 PM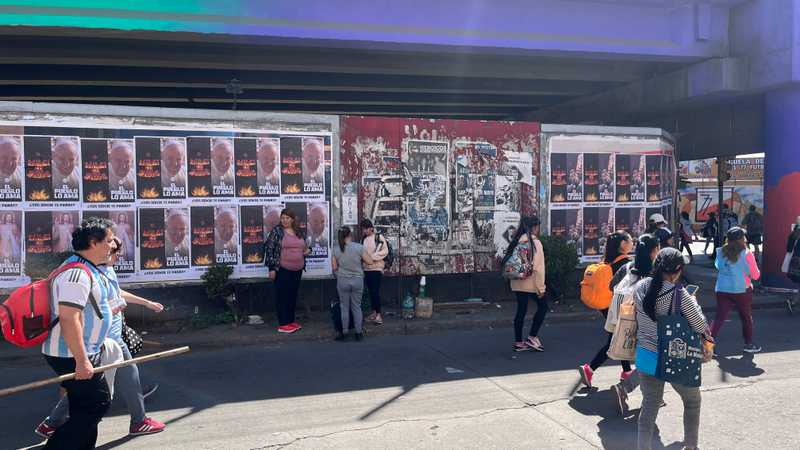 At around 3:30 PM, after having walked almost 12 miles, I reach the town of Merlo. I'm definitely starting to feel some aches in my legs now, so I decide to take another break and stop at a roadside grill for a sandwich.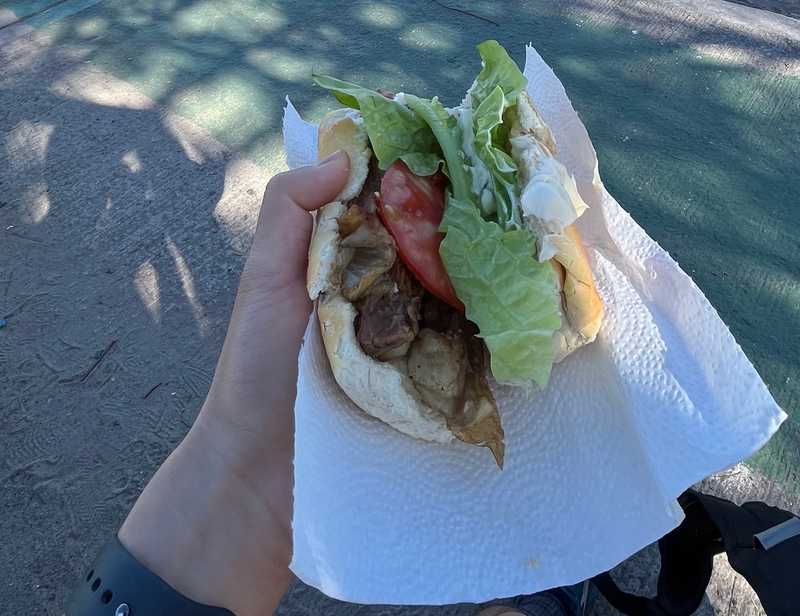 Saturday, 6:00 PM
The sun is starting to set when I see a large sign which reads "Descanso El Peregrino La Reja". At this point, I'm just about halfway — 18 miles from Liniers and 18 miles to the basilica in Luján — and I'm very much ready for a break.
The sign advertises free bread, mate, and bathrooms, so I turn inside, where I see a bunch of pilgrims already resting.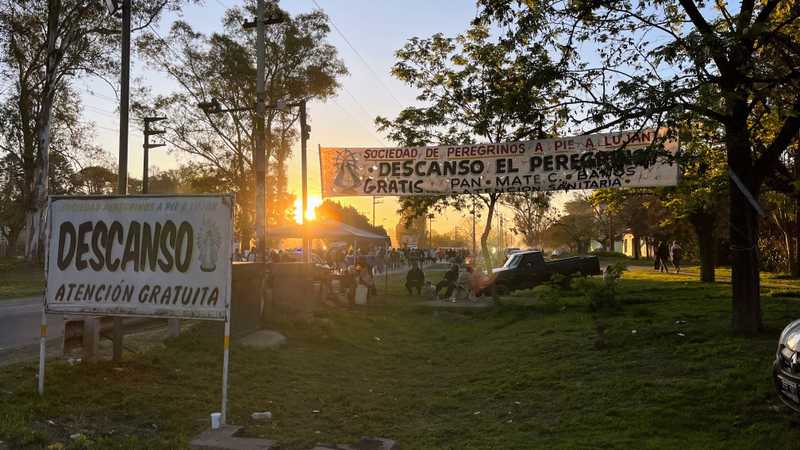 I'm not exactly sure what to expect from this place, but I gladly accept my first mate cocido of the night when a volunteer offers it.
As I sit down in the grass nearby to drink it, a huge crowd of people walk through the gates, following yet another replica of the Virgin of Luján pushed on a small cart. A man comes and sits near me, and I ask him what's going on.
"This statue is special, it's the main one," he explains. He tells me he started at around 10 this morning from Liniers — two hours before me — and I'm pleasantly surprised by how much time I've made up. Maybe I will be getting home before 4 AM.
Saturday, 6:40 PM
I sip my mate cocido and watch people come and go, amazed (and grateful) that this oasis of assistance exists.
After about 40 minutes of rest, I decide it's time to step back onto the road. Luján is just about due west, and by now the sun is straight ahead of me, grazing the treetops as I begin the second half of my walk. I put my jacket back on.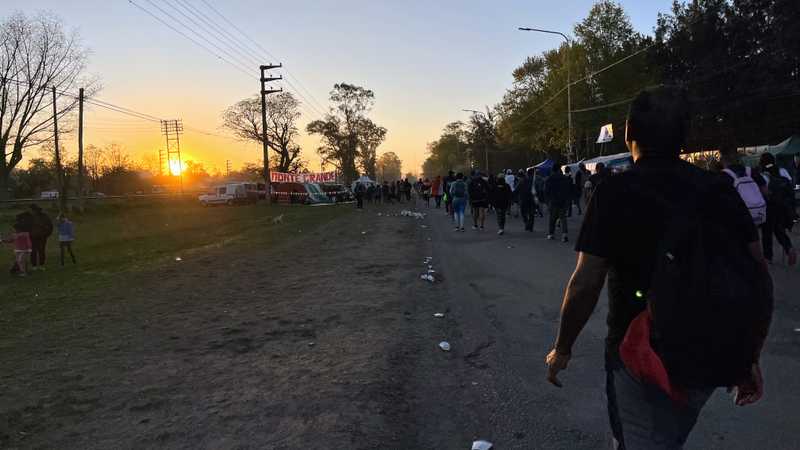 Things are starting to look more rural — the buildings are further apart from each other and soon there's not much around me besides the railroad tracks and streetlights to my left and the trees to my right.
Saturday, 8:15 PM
The sun is set, the streetlights are lit, and the mass continues moving. The hubbub of conversation from earlier in the day has died as fatigue overtakes the crowd.
Still, my weary legs somehow maintain my pace. I pass more church groups, and now more frequently, support stations. These stations are much more utilized than the ones before: pilgrims lie inside the tents as medical workers massage their legs and feet; others rest outside, awaiting their turn.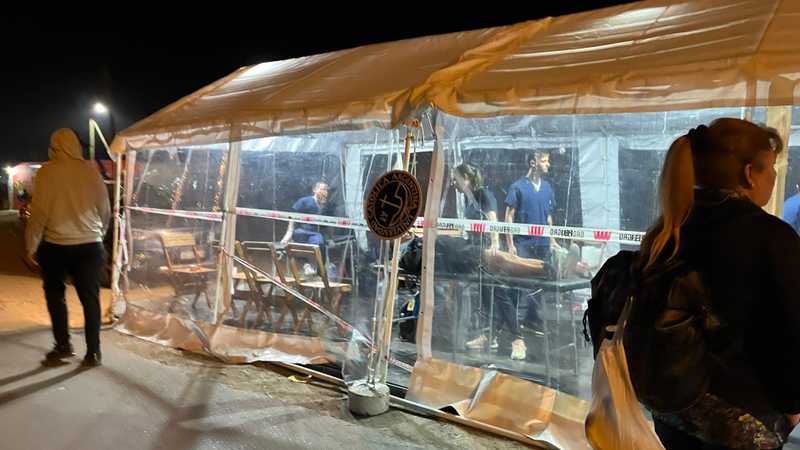 Supplementing the communal support stations, I see that many churches have also set up their own roadside support centers, and groups are peeling off to rest and reunite at them, too.
At around 8:15 PM, I reach the outskirts of the city of General Rodriguez, about 24 miles from Buenos Aires and 12 to Luján. I decide it's time for another vacío sandwich.
Saturday, 9:00 PM
By 9:00 PM, I'm walking through the main center of General Rodriguez. Pilgrims are lying down and doing curbside stretches to work the kinks out of their legs.
Saturday, 11:00 PM
The road is dark now, with just the warm glow of tired streetlights and the occasional orange flicker from a grill or campfire to guide us. It's decidedly rural: to the right of us is a large, grassy field with a row of faraway lights in the distance; to the left, from time to time, a train passes.
Together as one, we press on. At around 11:00 PM, we come to a bridge with a sign: Luján, 8 kilometers. Beneath the bridge, there's another support station. The priest on duty, still dressed in his robes, spits motivation through his microphone as upbeat music plays, giving us a second wind.
"¡Último tramo, último tramo!" Final leg, final leg!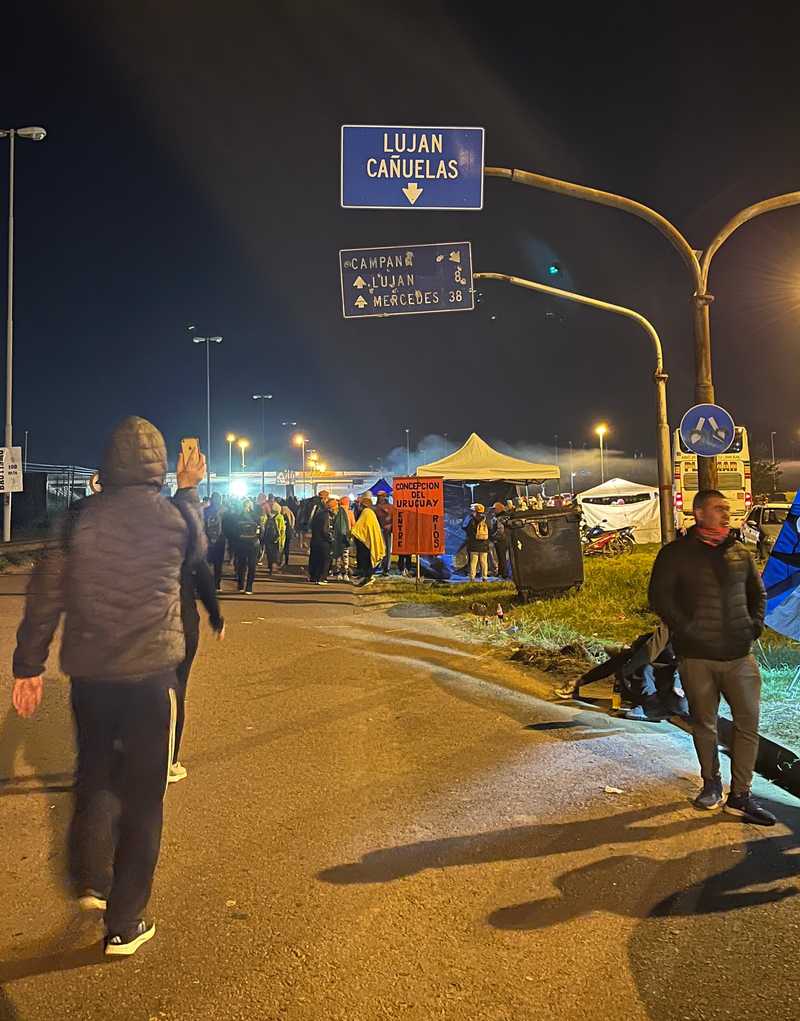 Sunday, 12:00 AM
We enter central Luján just after midnight, still about two and a half miles away from the basilica. There's another agglomeration of tents and activity, and as we pass through, volunteers hand each of us another cup of mate cocido and a lit candle to carry for the final portion of the walk.
Sunday, 1:00 AM
The final push is slow, as we're pressed in by the narrow streets of downtown Luján. A church group's speaker cart solemnly plays the Argentine national anthem as we walk.
♪ Oíd, mortales, el grito sagrado:
"¡Libertad! ¡Libertad! ¡Libertad!" ♪
We soon see the ascendant spires of the basilica, and as we make our final turn, the church comes into view in its full splendor. We reach the basilica gates just past 1:00 AM.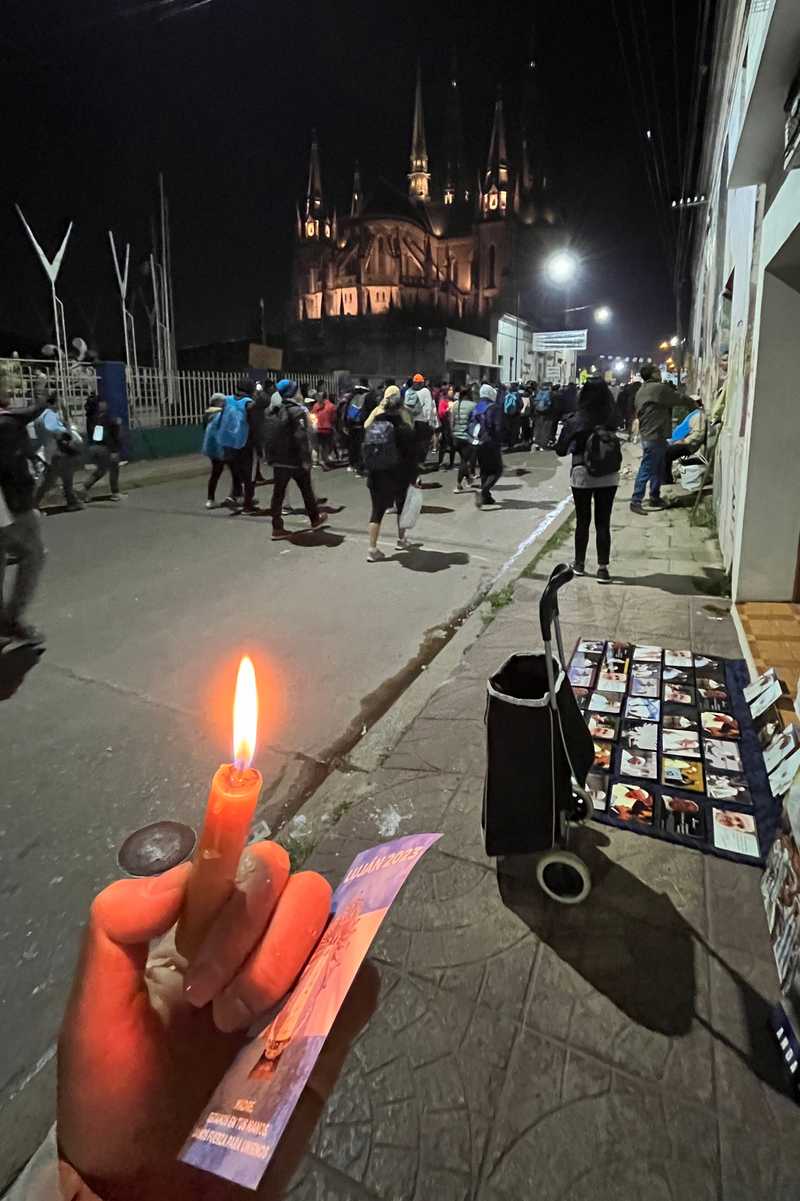 Sunday, 1:10 AM
As I squeeze through the church gates, the aches in my legs finally start to hit me. I sit down outside the church door to rest while the crowd waits patiently to enter the basilica.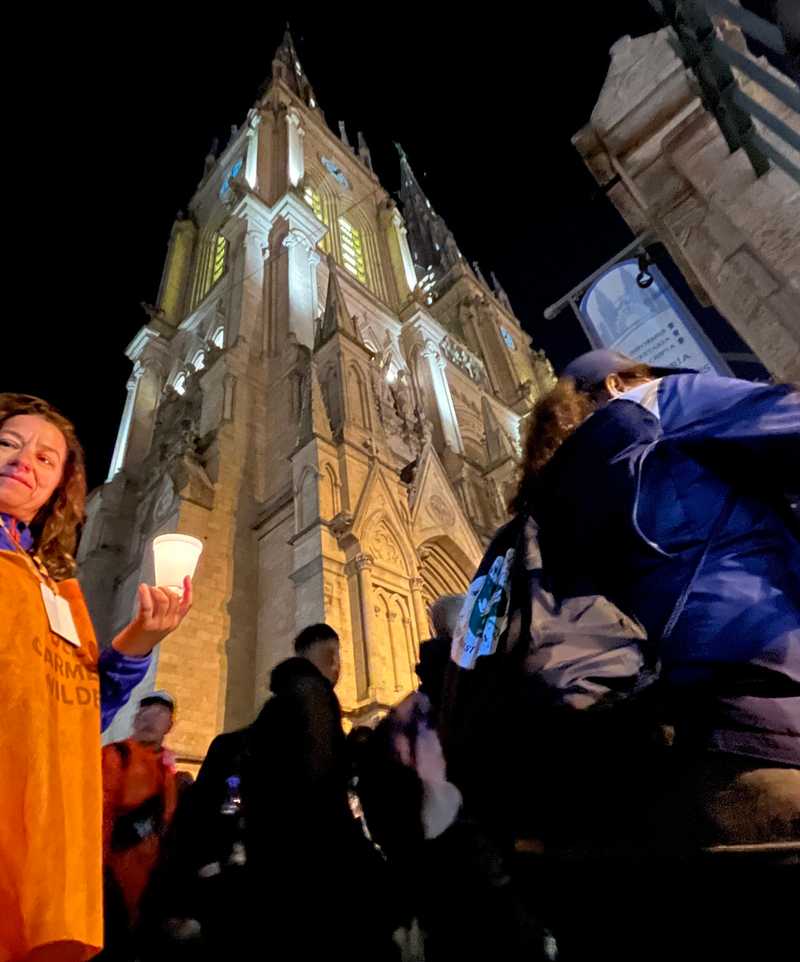 Watching the sluggish pace of the line, I consider calling it a night and getting on the first bus back to Buenos Aires. But after a ten-minute break, I'm reenergized, and I rejoin the line to enter the basilica.
Inside the church, earlier arrivals are already lying down on blankets. The newcomers shuffle towards the front, and each pilgrim stops briefly to bask in the dazzling golden altar displaying the original, legendary Virgin of Luján.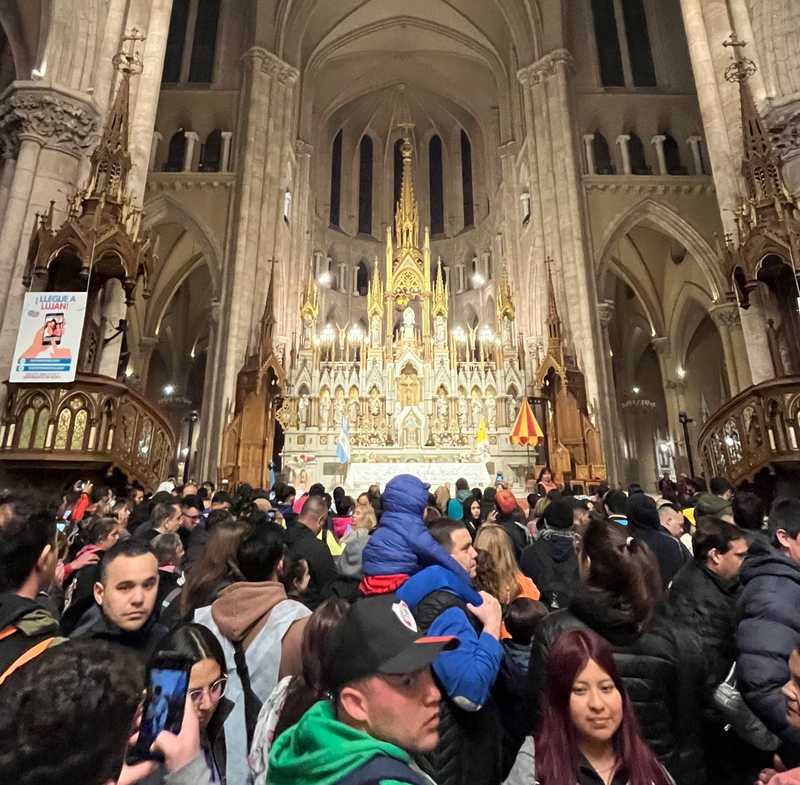 Sunday, 1:45 AM
I exit the church. Plaza Belgrano, the large square facing the basilica, is packed with people. To my left, there is a stage where priests are delivering some sort of sermon. As I sit down in the plaza, the chilly night air nips at my exposed legs and face, and I suddenly realize how cold it's gotten. I'm exhausted.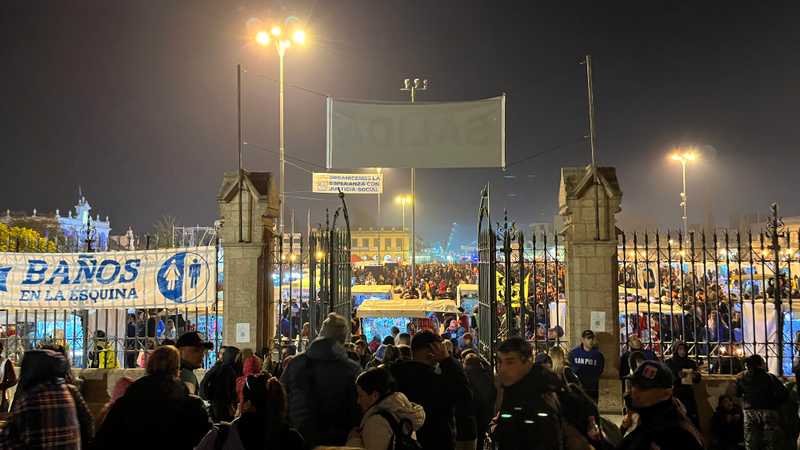 I ask around for directions back to Buenos Aires, and I'm sent to the bus terminal, a few blocks north of the square. Thankfully, the local bus companies are running extra departures for the event, and I get in line for a bus back home.
Sunday, 2:15 AM
The first bus is full before I reach the front, but I'm able to board the next, at around 2:15 AM. It's about an hour-and–fifteen-minute drive back to the city.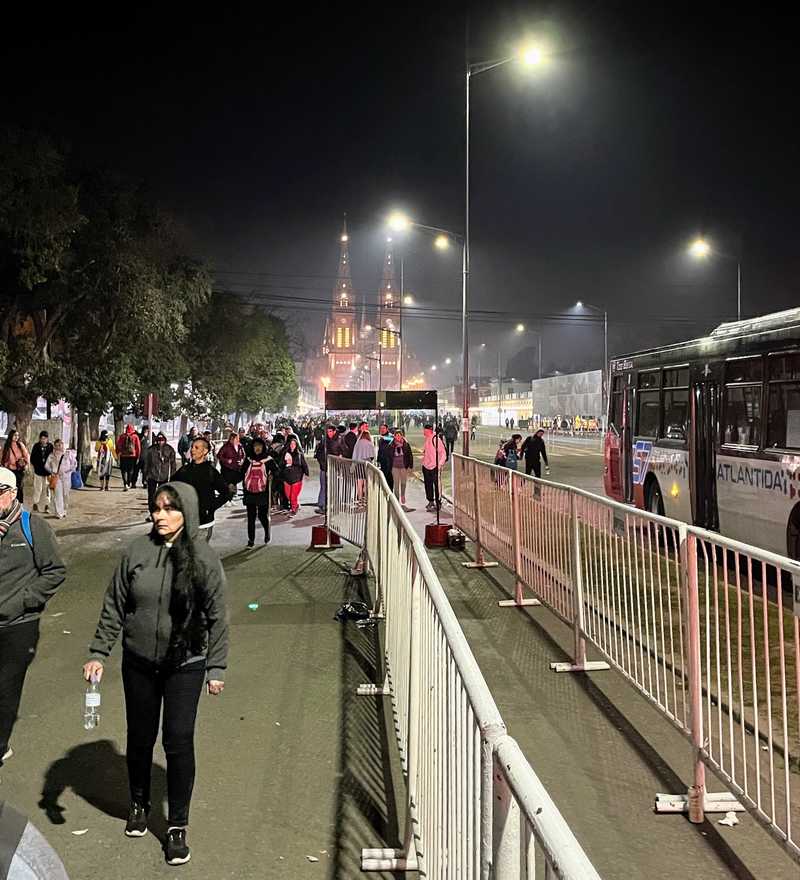 Sunday, 3:30 AM
I get off the bus in Buenos Aires and start making my way back to my homestay. When I arrive, I take a quick shower and fall into bed, looking forward to my best night of sleep in while — thankful for the warmth and faith of the Argentine people, and perhaps a little closer to something divine.