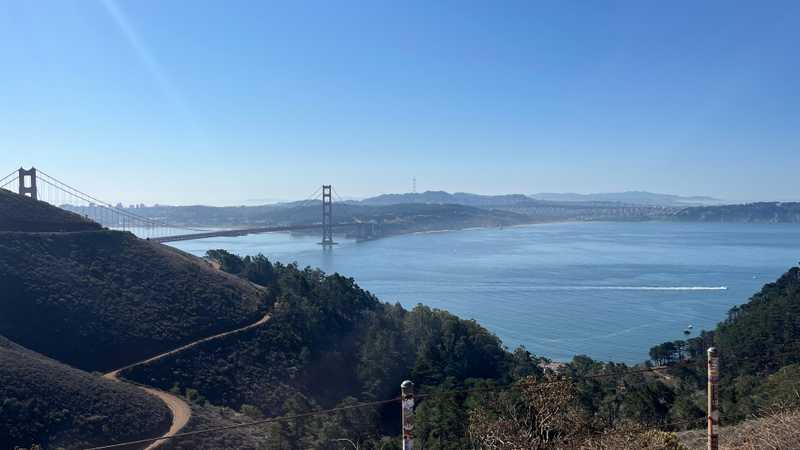 "I'm running a negative cash conversion cycle," I explained, as I picked up the check.
We'd just enjoyed a sumptuous dinner of duck and dumplings at Harborview in San Francisco; the total for eight was $360, so my share was $45.
"If I put it on my credit card, I don't have to pay it back for 15 months, so happy to take this unless someone else wants the points."
---
When I last wrote about my personal finances, four years ago, in 2019, I'd only been working full-time for about six months. I was making good money working in big tech and had about $25,000 of cash to my name.
Four years later, I am excited to announce that my peak income to date was three years ago, in 2020, and I have not held W-2 employment since 2021.
Here's why getting into debt has been one of the most valuable financial decisions I've ever made.

Some caveats
On the number above: while my liabilities exceed $25,000, my assets are now around $100,000 (about $75,000 of which is liquid, mostly in stocks), so my true net worth (i.e. assets minus liabilities) is still comfortably on the right side of zero.
Finally, all of my debt is from relatively low-interest rate sources, with nominal rates ranging from 0% to 7% (even the credit card debt), while annualized inflation has ranged from 3% to 6% this year.
These conditions — a solid cushion of liquid assets, high future expected income, and access to low-interest rate sources of debt — are not necessarily typical for the average college student, so for the sake of covering my bases with FINRA and the SEC:
This is an opinion and is for informational purposes only. You should not construe this information as legal, tax, investment, or financial advice. This is not a solicitation to buy or sell securities. You should consult your own legal, tax, investment, or financial advisers before engaging in any transaction.
Why borrow?
At the surface level — from a purely financial perspective — borrowing to finance my spending is more tax-advantaged than selling stocks, since there is no realization of capital gains; it enables me to keep more of my net worth in assets that will grow in value and compound. At the same time, with the inflation we've experienced over the past few years, my debt has grown extremely slowly in real terms; in fact, pandemic-era Education Department policy has allowed me to enjoy a 0% interest rate on my student debt (now totaling $10,000) for the last two years.
1. Consumption smoothing
Essentially, I have decreasing marginal returns to consumption. When I'm young and I don't have that much money to spend, an extra dollar spent on consumption goes further then when I'm older, richer, and have lots of money to spend. In more concrete terms, I get more utility out of eating Chipotle every day than starving myself for a month so I can afford one dinner at Nobu (at the end of the day, it's just food).
2. Nonfinancial compounding
Why not borrow?
At the same time, with $75,000 of liquid savings, I could've easily just sold stocks and lived off of that; according to Mint, my average spending is about $3,000/month (for everything — including rent, tuition, food, airfare, etc.), so this would've easily lasted me about two years. My net worth remains positive and I still live relatively frugally, so am I really "consumption smoothing" in the sense of overextending my spending with the expectation of making it all back later?
But then, viewing this strategy holistically, the rationale for doing this seems to functionally come down to a financial justification: the difference between selling my savings to fund current spending versus taking out loans is that in the latter case, the entirety of my stock portfolio (ideally) continues to grow, rather than whatever amount is left as I sell. The linchpin of the strategy thus becomes access to low-interest debt that grows slower than my savings and investments. The argument that the non-financial forms of capital that I'm accumulating now (human, social) compound at a higher rate than stocks perhaps makes me feel more comfortable with 6–7% interest rates versus 7–9% average annual returns in the stock market, but all said, I'm arguably not truly "consumption smoothing" in the sense of spending more than I could right now.
So perhaps this rationalization is all just a trick — financial and psychological sleight of hand. After all, "levered long stocks boosted with credit cards and student loans" sounds a lot more degenerate than "consumption smoothing + non-financial compounding with a solution to the liquidity constraint." However, what's important is that thinking of this financial strategy in the second way helped me get over my aversion to borrowing — and more crucially, spending.
Of course, after overcoming the psychological hurdles of borrowing and spending, doing more of the same is easy — the most difficult part of this strategy might in fact be ensuring that I smooth on the back half; that I don't let my debt get so large on the expectation that tomorrow will always be more prosperous than today. While I think I am careful enough about my finances to keep things in check, if compounding works out as well as I hope it will, perhaps that will end up being unnecessary.
How to borrow?
I hold three main types of debt (or more generously, "have access to three main sources of liquidity"):
Student loans, from the U.S. Department of Education; temporary 0% interest rate, after September 2023, a fixed rate based on disbursement date which averages out to about 5%: $10,000 currently outstanding
Credit card debt; 0% intro APR on purchases for first 12–15 months after account opening, depending on card; 25%+ after intro period ends: $13,000 currently outstanding, previously $20,000
Margin loans
After reading the paper, I tried to implement the authors' strategy and take out a margin loan myself, but I found that I wasn't able to do it immediately; I needed to specifically open a "margin account."
At the time, I used Vanguard as my brokerage and was mostly invested in Vanguard mutual funds in a non-margin account. I looked into opening a margin account with Vanguard, but found there were two problems with this: first, Vanguard's margin interest rates are much higher than those of other brokerages; and second, mutual funds can't even be bought in margin accounts. That meant I couldn't use my mutual fund holdings as collateral for a margin loan.
Soon after the transfer settled in my new Interactive Brokers account, I was able to take out a margin loan of around $30,000 cash (and when I was first setting this up in 2021, the rate offered was 1.6% — 4–5x less than Vanguard). To implement the authors' strategy, I re-enabled the auto-investment into stocks that I had going while I was employed, even though I was fully unemployed and had no income at the time.
As interest rates have gone up, I've gone from paying about $10/month in interest to around $40/month in interest, on outstanding debt balances of anywhere from $5,000–$10,000. This is still quite manageable for me, and having the extra liquidity is well worth it.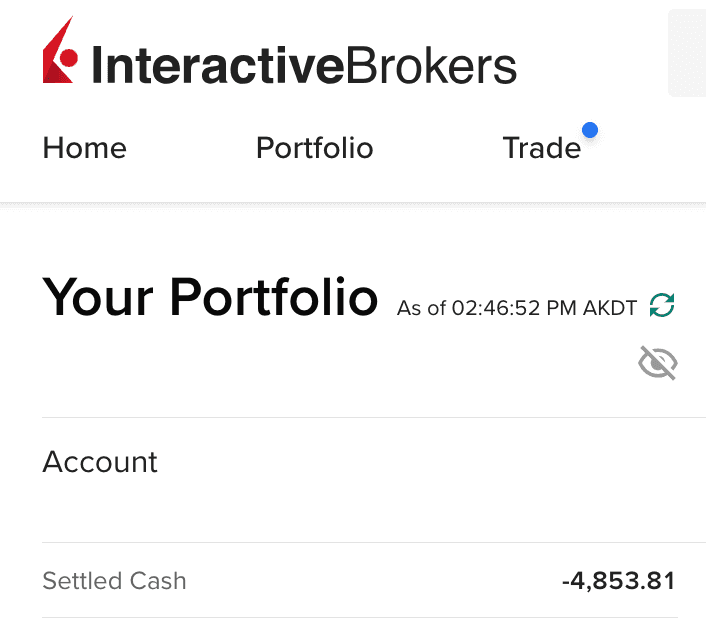 Student loans
This combination of 0% interest and no repayment until six months after I leave school (upon which I'd presumably get some sort of job) means that this is functionally free money to me. I was limited to $7,500 per year, but I wish I could've gotten more!
Credit card debt
This is the type of debt that reasonable people seem to be most unnerved by. Before I began my deep descent into debt, I always paid off my full credit card statement balance every month, and I never considered the interest rate of a credit card because I never thought that I'd ever carry a balance.
In fact, a month ago I had about $20,000 of credit card debt; $7,000 of it was on a Citi card whose introductory 0% APR expired last month. When the rate expired, I withdrew $7,000 from Interactive Brokers and used it to pay Citi; now the card has $0 on it and I didn't have to pay any interest for 15 months.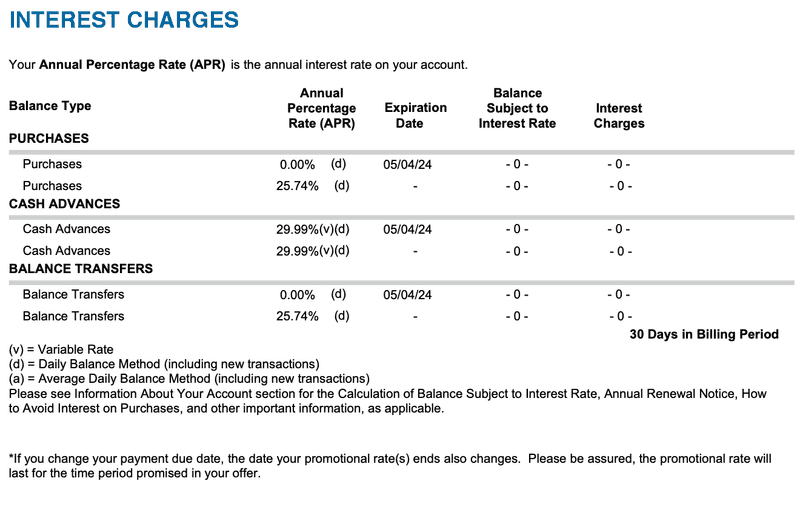 Admittedly, this has had a negative impact on my credit score, dropping it by 30–50 points depending on which report I'm looking at (albeit still above 700), because utilization is such a significant part of the calculation. However, I'm not doing anything right now that requires that great of a score (e.g. auto or home loan), so this doesn't affect me too much.
The main difference between margin debt and credit card debt is that I can't directly withdraw cash out of my credit card like I can from my margin account, since the 0% introductory APR doesn't apply to cash withdrawals. In that way, credit card debt is slightly less flexible than margin debt, but it's turned out not to have been as much of a limitation as I thought.
---
"After you Venmo me, I can transfer the cash to my bank account instantly and then invest it until the 0% intro APR period ends next year."
"Nice, credit card arbitrage, I like it. The check's all yours."